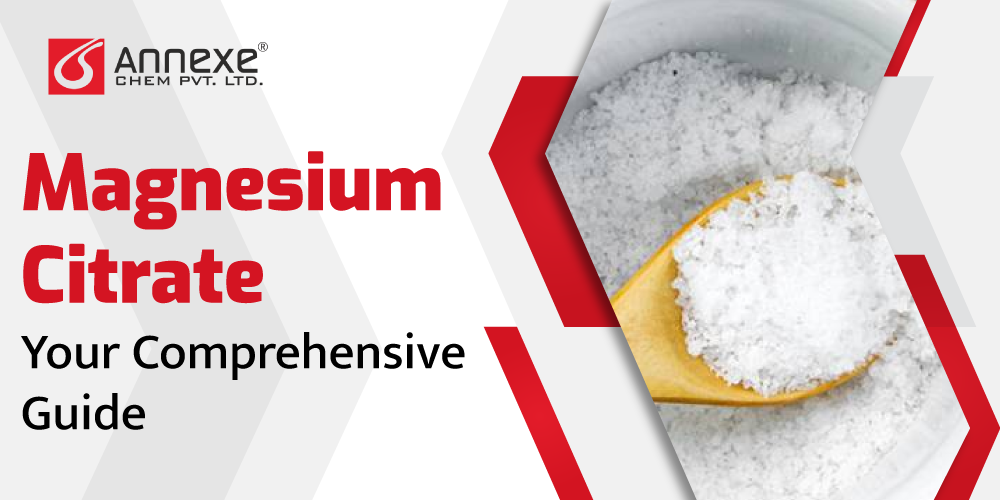 Magnesium citrate is a popular dietary supplement that provides the essential mineral magnesium in a highly bioavailable form. It is widely recognized for its role in various bodily functions and is known to offer a range of health benefits.
Magnesium citrate is a magnesium salt of citric acid. It is an organic compound consisting of magnesium bound to citric acid molecules. This combination is highly soluble in water, making it an excellent option for supplementation, as it is readily absorbed by the body.
Chemical Composition:
The chemical formula for magnesium citrate is Mg3(C6H5O7)2. This formula reflects the presence of three magnesium (Mg) ions bound to two citric acid (C6H5O7) molecules. The molecular weight of magnesium citrate is approximately 451.1 grams per mole.
The citric acid in magnesium citrate not only aids in the absorption of magnesium but also contributes to the supplement's slightly acidic taste. This acidity is why magnesium citrate is commonly available in liquid form, which is easier to ingest for some individuals.
The Combination of Magnesium and Citric Acid Offers Several Advantages:
Solubility: Magnesium citrate is highly soluble in water, which means it can dissolve easily in the digestive tract, enhancing its absorption.
Bioavailability: Citric acid helps improve the bioavailability of magnesium, ensuring that a significant portion of the magnesium you consume is absorbed and utilized by the body.
Gentle Laxative Effect: While not the primary purpose of magnesium citrate, some formulations are used as a gentle laxative to relieve constipation. This effect is due to its ability to draw water into the intestines, softening stools and promoting bowel movements.
Physical Properties of Magnesium Citrate
State: Magnesium citrate is typically found in two primary states:

Powder: It's a fine, white, or off-white substance often used in making capsules and tablets. Its excellent water solubility allows for easy integration into liquid preparations.
Liquid: This clear or slightly cloudy solution is a popular over-the-counter oral laxative for relieving constipation.

Solubility: One of the notable physical properties of magnesium citrate is its excellent solubility in water. This property allows for rapid dissolution in the digestive system, making it highly bioavailable for absorption in the body.
Taste: Magnesium citrate has a slightly acidic taste due to the presence of citric acid. This taste can be noticeable when consumed in liquid form. Manufacturers often add flavorings to improve the palatability of liquid magnesium citrate laxatives.
Molecular Weight: The molecular weight of magnesium citrate is approximately 451.1 grams per mole. This value indicates the mass of one mole of magnesium citrate molecules.
Density: The density of magnesium citrate varies depending on whether it is in powder or liquid form. In the powdered form, it has a relatively low density, while in liquid form, its density is similar to that of water.
pH Level: Magnesium citrate solutions tend to be slightly acidic due to the citric acid component. The pH level can vary depending on the concentration of the solution.
Hygroscopicity: Magnesium citrate powder has a degree of hygroscopicity, meaning it can absorb moisture from the air. To prevent clumping and maintain its free-flowing properties, magnesium citrate powder is often stored in airtight containers.
Color: Magnesium citrate powder is commonly white or off-white, while the liquid form is usually colorless or slightly cloudy.
Odor: Magnesium citrate is generally odorless in its pure form.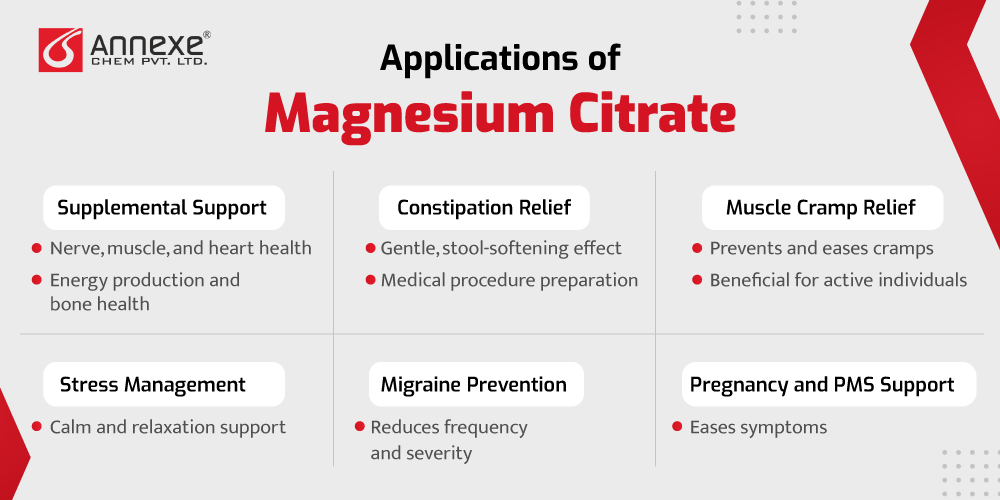 Usage of Magnesium Citrate
Magnesium citrate, a versatile magnesium supplement, has gained widespread recognition for its role in supporting various aspects of health. From promoting muscle function to aiding in digestive regularity, magnesium citrate offers a range of benefits. In this comprehensive guide, we will delve into the many ways magnesium citrate can be used to enhance your well-being.
Dietary Supplementation: One of the primary uses of magnesium citrate is as a dietary supplement. Many individuals choose to incorporate magnesium citrate into their daily routine to ensure they meet their recommended daily intake of magnesium. This mineral plays a crucial role in numerous bodily functions, including:
Nerve and Muscle Function: Magnesium is essential for the proper functioning of nerves and muscles. It helps regulate muscle contractions and nerve impulses, which are vital for movement and coordination.
Heart Health: Magnesium contributes to maintaining a steady heartbeat and regulating blood pressure. Adequate magnesium levels can support cardiovascular health by preventing irregular heart rhythms and reducing the risk of hypertension.
Energy Production: Magnesium is a cofactor in over 300 enzyme systems involved in energy production. It helps convert food into energy, making it crucial for overall vitality.
Bone Health: Magnesium works in tandem with calcium to maintain strong and healthy bones. It helps with the absorption and utilization of calcium, preventing conditions like osteoporosis.
Relieving Constipation: Another well-known use of magnesium citrate is as a natural laxative. Magnesium citrate supplements in liquid form, when taken orally, can help alleviate constipation. Here's how it works:
Osmotic Effect: Magnesium citrate draws water into the intestines, softening stool and increasing bowel movements. This osmotic effect can provide relief from occasional constipation.
Gentle Action: Unlike harsh chemical laxatives, magnesium citrate tends to have a gentler and more natural action on the digestive system, making it a preferred choice for many.
Preparation for Medical Procedures: Doctors may recommend magnesium citrate as a bowel preparation solution before certain medical procedures or surgeries to ensure the colon is empty.
Muscle Cramp Relief: Individuals prone to muscle cramps or spasms may find relief through magnesium citrate supplementation. The mineral's role in muscle function helps prevent and alleviate cramping, especially in athletes and physically active individuals.
Stress and Anxiety Management: Magnesium is sometimes referred to as the "relaxation mineral" because of its potential role in stress and anxiety management. Adequate magnesium levels may help regulate stress hormones and promote a sense of calm.
Migraine Prevention: Some migraine sufferers have reported a reduction in the frequency and severity of migraines with magnesium supplementation. While the exact mechanisms are still being studied, magnesium's role in relaxing blood vessels and reducing inflammation may play a part in migraine prevention.
Pregnancy and PMS Support: Pregnant women and individuals experiencing premenstrual syndrome (PMS) may benefit from magnesium citrate. It can help alleviate symptoms such as muscle cramps, bloating, and mood swings.
Usage Tips: When Using Magnesium Citrate, It's Important to Consider the Following Tips:
Dosage: Follow the recommended dosage instructions on the product label or as advised by a healthcare professional.
Timing: Take magnesium citrate with a meal for better absorption, as some forms of magnesium can cause stomach upset when taken on an empty stomach.
Hydration: Ensure adequate hydration when using magnesium citrate as a laxative to support its osmotic effect.
Consult a Healthcare Professional: If you have specific health concerns, are taking medications, or have any medical conditions, consult with a healthcare provider before starting any magnesium citrate supplementation.

Future Trends and Developments in Magnesium Citrate
Advanced Formulations: Researchers and manufacturers may continue to develop advanced formulations of magnesium citrate that offer enhanced bioavailability and absorption. These formulations aim to make magnesium citrate supplements even more effective in supporting various health functions.
Personalized Nutrition: Personalized nutrition and health approaches are gaining momentum. In the future, there could be a greater emphasis on tailoring magnesium supplementation to individual needs based on factors like age, gender, health conditions, and genetics.
Nutraceutical Innovations: The nutraceutical industry, which includes dietary supplements like magnesium citrate, may see innovations in delivery methods. This could include the development of novel delivery systems such as nanoencapsulation or liposomal technology to improve magnesium absorption.
Clinical Research: Ongoing and expanded clinical research on magnesium and its various forms, including magnesium citrate, may lead to a better understanding of its potential health benefits. New studies could reveal additional therapeutic uses for magnesium citrate.
Combination Supplements: Manufacturers might explore combining magnesium citrate with other vitamins, minerals, or bioactive compounds to create multifunctional supplements designed to address specific health concerns comprehensively.
Sustainability and Sourcing: Future trends may place a stronger emphasis on sustainable sourcing of magnesium and eco-friendly production methods to align with growing consumer preferences for environmentally responsible products.
Regulatory Changes: Regulatory agencies may implement stricter guidelines and quality control standards for dietary supplements, including magnesium citrate, to ensure product safety and efficacy. Compliance with these regulations will be a crucial focus for manufacturers.
Consumer Education: As awareness of the importance of magnesium in health continues to grow, consumer education on magnesium supplementation, including magnesium citrate, may become more widespread. This could lead to more informed choices among consumers.
Digital Health Integration: The integration of digital health technologies may allow individuals to monitor their magnesium levels more accurately and receive personalized recommendations for magnesium supplementation through smartphone apps and wearable devices.
Global Market Growth: The global market for dietary supplements, including magnesium citrate, is expected to continue its growth trajectory. As populations age and interest in health and wellness increases, the demand for magnesium supplements may rise.
Functional Foods: Magnesium citrate could find its way into functional foods and beverages, allowing consumers to incorporate this essential mineral into their diets more easily.
Healthcare Partnerships: Collaboration between supplement manufacturers and healthcare providers may become more common to ensure that magnesium citrate is used effectively as part of patient treatment plans.
By prioritizing your magnesium intake and collaborating with a healthcare professional, you can pave the way to a healthier, more vibrant life. Whether you're seeking relief from digestive discomfort or aiming to fortify your heart, muscles, and bones, magnesium citrate could be the missing piece in your wellness puzzle. For those eager to embark on their magnesium citrate journey with confidence, Annexe Chem Pvt. Ltd. offers a reliable source for top-tier supplements. Our commitment to quality and excellence makes them a go-to destination for dietary supplements, including magnesium citrate. Explore our range of products and learn more at https://annexechem.com/.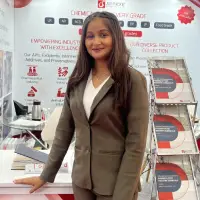 Akshita Patel
As an advocate for sustainability, Akshita is committed to driving positive change within the chemical industry. She actively seeks out environmentally friendly solutions and promotes the adoption of sustainable practices. Akshita believes that a balance between economic growth and ecological responsibility is crucial for the industry's long-term success. She is dedicated to finding innovative ways to minimize environmental impact while maximizing efficiency and profitability.