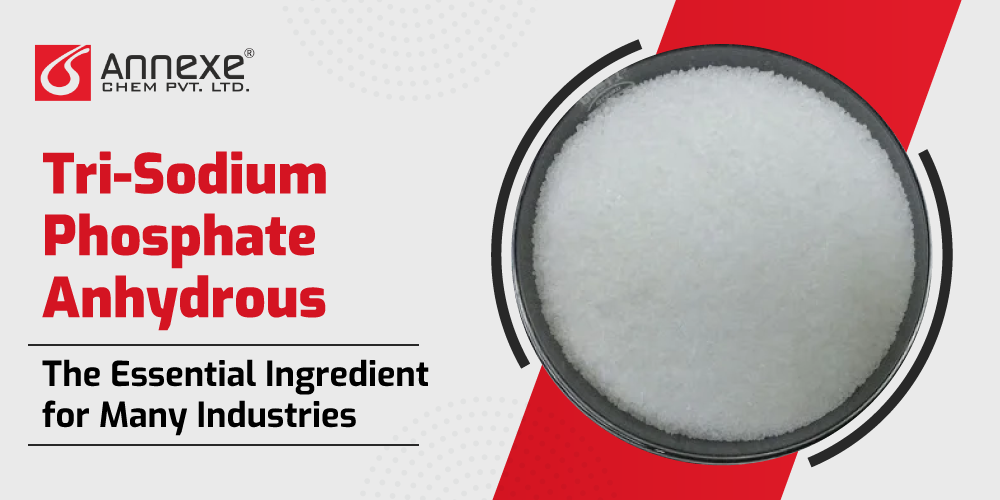 Tri-Sodium Phosphate Anhydrous, often abbreviated as TSP, is a versatile and crucial chemical compound with a wide range of applications across several industries. This chemical, which consists of three sodium cations (Na+) and one phosphate anion (PO43-), plays a significant role in various processes due to its unique properties and capabilities. As a leading Tri-Sodium Phosphate Anhydrous supplier, Annexe Chem Pvt. Ltd. takes pride in powering industries with this exceptional compound.
Variants and Forms of TSP
Tri-Sodium Phosphate Anhydrous is available in various forms and grades to meet specific requirements in different applications. Some common variants and forms of TSP include:
Technical Grade TSP: This is a basic form of TSP used in industrial applications, such as cleaning agents, water treatment, and as a flux in metallurgy. Technical grade TSP is valued for its cost-effectiveness and general-purpose cleaning abilities.
Food Grade TSP: In the food industry, TSP may be used as a food additive. Food-grade TSP is carefully manufactured and purified to meet strict safety and quality standards. It serves as a pH regulator and nutrient source in certain food and beverage products.
Household TSP: Household TSP is a milder variant designed for consumer use. It is often used as a cleaning agent and stain remover in households. Compared to industrial-grade TSP, the household version is gentler to prevent damage to common household surfaces.
Paint and DIY TSP: This specialized form of TSP is designed for paint preparation and DIY projects. It aids in the removal of dirt, grease, and mildew from surfaces before painting, ensuring better paint adhesion and a smooth finish.
Understanding the different variants and forms of TSP is crucial when selecting the appropriate type for specific applications. Each variant has unique properties and characteristics that make it suitable for particular tasks, whether industrial cleaning, water treatment, food processing, or household chores.
Properties of Tri-Sodium Phosphate Anhydrous 
Tri-Sodium Phosphate Anhydrous has distinctive physical and chemical properties making it a versatile compound in various industries. Understanding these properties is essential for harnessing its full potential.
Physical Properties
Appearance: TSP typically appears as a white, crystalline powder or granules. Its fine texture allows it to mix well with liquids and other substances, making it suitable for various applications.
Solubility: TSP is highly soluble in water, forming a clear, alkaline solution. This property is particularly valuable in applications like water treatment and cleaning, where its solubility aids in the dissolution of impurities and stains.
Melting Point: TSP has a relatively high melting point, typically around 1583 degrees Celsius (2881 degrees Fahrenheit). This property contributes to its stability in high-temperature processes, such as metallurgy and industrial cleaning.
Chemical Properties
pH Level: TSP is strongly alkaline, with a pH level of around 12, making it highly effective in neutralizing acids. This property is beneficial in applications where pH adjustment or buffering is required, such as in water treatment and food processing.
Reaction with Water: When TSP is dissolved in water, it undergoes hydrolysis, releasing hydroxide ions (OH⁻) and increasing the solution's alkalinity. This reaction plays a vital role in its cleaning and water-softening applications.
Stability: TSP is a stable compound when stored under appropriate conditions. It does not readily decompose or react with air or moisture, ensuring longevity and effectiveness.
Compatibility: TSP can react with certain other chemicals, so it is essential to be aware of potential interactions when used in combination with other substances. Compatibility testing is crucial to ensure desired results and safety in various applications.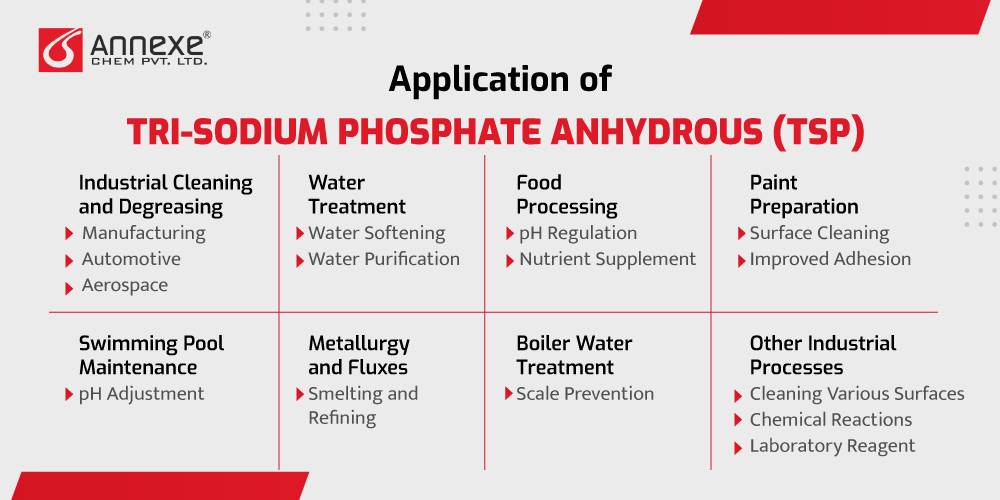 Applications of Tri-Sodium Phosphate Anhydrous (TSP)
Tri-Sodium Phosphate Anhydrous (TSP) is a versatile chemical compound with a wide range of applications across various industries. Its unique properties make it a valuable ingredient in processes ranging from industrial cleaning to food production.
Industrial Cleaning and Degreasing

Manufacturing: TSP is widely employed in manufacturing industries to clean and prepare surfaces before welding, painting, and coating. Its effectiveness in removing heavy industrial residues and contaminants ensures product quality and safety.
Automotive: TSP is used for cleaning automotive parts, engines, and machinery. It helps remove oil, grease, and grime, ensuring the efficient operation of vehicles and equipment.
Aerospace: The aerospace industry relies on TSP for the maintenance of aircraft components. Its ability to remove carbon deposits, adhesives, and stubborn contaminants is essential for ensuring the safety and performance of aircraft.

Water Treatment

Water Softening: In homes and industrial settings, TSP is added to water to soften it by precipitating calcium and magnesium ions that cause scaling. This process extends the lifespan of water heaters, pipes, and appliances.
Water Purification: TSP is used in water treatment plants to adjust pH levels and remove impurities. It aids in the coagulation and flocculation of particles, making them easier to remove during purification.

Food Processing:

pH Regulation: TSP acts as a pH regulator in various food and beverage products, helping to maintain the desired acidity levels. It is important in processes such as cheese production and baking.
Nutrient Supplement: TSP provides essential phosphorus in some food products. It ensures that consumers receive nutrients while also contributing to the stability and texture of certain foods.

Paint Preparation:

Surface Cleaning: Before painting, TSP is used to clean surfaces thoroughly. It removes dust, dirt, oil, and other contaminants, creating a clean canvas for paint application.
Improved Adhesion: Proper surface preparation with TSP ensures that the paint adheres well and provides a uniform finish. It is crucial in achieving professional-quality paint jobs.

Swimming Pool Maintenance: pH Adjustment:
Maintaining the correct pH level in swimming pool water is essential to prevent the growth of algae and bacteria. TSP is a preferred choice for pool owners as it effectively adjusts pH levels, ensuring clean and safe swimming conditions.
Metallurgy and Fluxes: Smelting and Refining: In metallurgical processes, TSP acts as a flux, aiding in the removal of metal oxides by reducing their melting point. It makes it easier to extract and refine metals from ores.
Boiler Water Treatment: Scale Prevention: TSP is used in boiler water treatment to prevent scale formation on boiler tubes and heating surfaces. It ensures efficient heat transfer and prolongs the life of the boiler.
Other Industrial Processes:

Cleaning Various Surfaces: TSP's versatility extends to cleaning metal surfaces, ceramics, glass, and machinery components in different industrial settings.
Chemical Reactions: In some chemical processes, TSP acts as a reactant, where its phosphate ions participate in reactions to produce desired products.
Laboratory Reagent: TSP also finds applications in laboratories, serving as a reagent in various analytical and research procedures.
Safety Precautions and Handling Guidelines for Tri-Sodium Phosphate Anhydrous  
Tri-Sodium Phosphate Anhydrous (TSP) is a powerful chemical compound with numerous applications, but it should be handled with care due to its alkaline nature. To ensure safety when working with TSP, it is essential to follow these precautions and handling guidelines:
Personal Protective Equipment (PPE):

Eye Protection: Wear safety goggles or a face shield to protect your eyes from splashes or dust.
Skin Protection: Wear gloves, long-sleeved clothing, and pants to prevent contact with the skin. Chemical-resistant gloves are recommended.
Respiratory Protection: Use a dust mask or respirator with appropriate filters if working with TSP in a dusty environment.

Ventilation: Work in a well-ventilated area to prevent the buildup of fumes and dust. If possible, use local exhaust ventilation to capture airborne particles.
Storage:

Store TSP in a cool, dry, well-ventilated area away from incompatible materials, such as acids or strong reducing agents.
Keep TSP containers tightly sealed when not in use to prevent moisture absorption and contamination.

Handling:

Avoid generating dust. Use TSP in a manner that minimizes dust formation, as inhaling TSP dust can irritate the respiratory system.
Use non-sparking tools and equipment when handling TSP to reduce the risk of ignition in potentially flammable environments.

Mixing & Dilution:

Always add TSP to water, not water to TSP, to prevent excessive heat generation or splattering. Slowly sprinkle TSP into the water while stirring to create a solution.
Do not mix TSP with other chemicals unless you are certain of their compatibility. Incompatible substances can lead to dangerous reactions.

First Aid Measures:

In case of skin contact, immediately remove contaminated clothing and wash the affected area with plenty of water. Seek medical attention if irritation or chemical burns occur.
If TSP comes into contact with the eyes, rinse them thoroughly with water for at least 15 minutes while holding the eyelids open. Seek immediate medical attention.
If swallowed, do not induce vomiting. Drink plenty of water or milk and seek medical attention immediately.

Environmental Considerations: Be mindful of environmental regulations when disposing of TSP solutions or waste. TSP is a phosphate compound, and excessive discharge into water bodies can contribute to water pollution.
Emergency Response: In case of a spill or accident involving TSP, follow established emergency procedures, including evacuating the area if necessary. Contact local emergency services if required.
Safety Data Sheet (SDS): Familiarize yourself with the Safety Data Sheet for the specific grade and form of TSP. The SDS provides detailed information on hazards, safe handling, and emergency procedures.
Training and Knowledge:

Ensure that individuals handling TSP are trained in its safe use and are aware of potential hazards.
Keep TSP out of reach of children and unauthorized personnel.
With its multifaceted properties and applications, Tri-Sodium Phosphate Anhydrous continues to shape how industries operate, offering efficiency, cleanliness, and reliability. Annexe Chem Pvt. Ltd. stands proud as a leading Tri-Sodium Phosphate Anhydrous supplier in India, dedicated to providing quality chemical solutions to diverse industries. Our commitment to safety, quality, and innovation has made TSP a powerful and trusted ally for countless applications, from industrial processes to everyday tasks.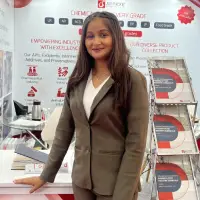 Akshita Patel
As an advocate for sustainability, Akshita is committed to driving positive change within the chemical industry. She actively seeks out environmentally friendly solutions and promotes the adoption of sustainable practices. Akshita believes that a balance between economic growth and ecological responsibility is crucial for the industry's long-term success. She is dedicated to finding innovative ways to minimize environmental impact while maximizing efficiency and profitability.
Related Blogs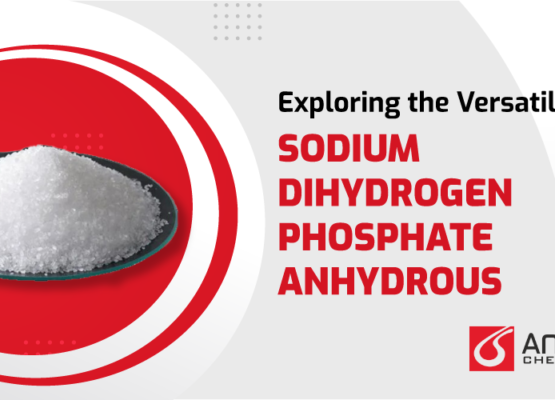 Sodium Dihydrogen Phosphate Anhydrous, also recognized as anhydrous monosodium phosphate or monosodium phosphate, is a significant.
READ MORE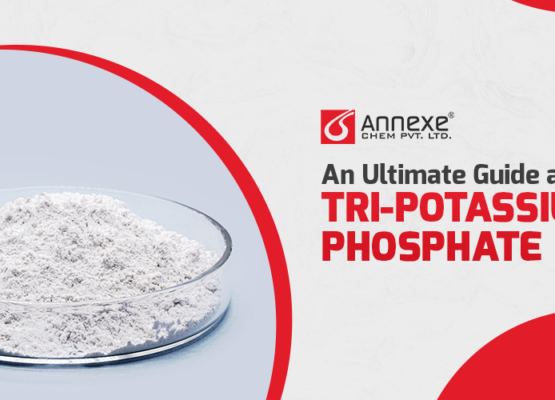 Tri Potassium Phosphate (TKP), also known as potassium phosphate tribasic, is a chemical compound with a.
READ MORE