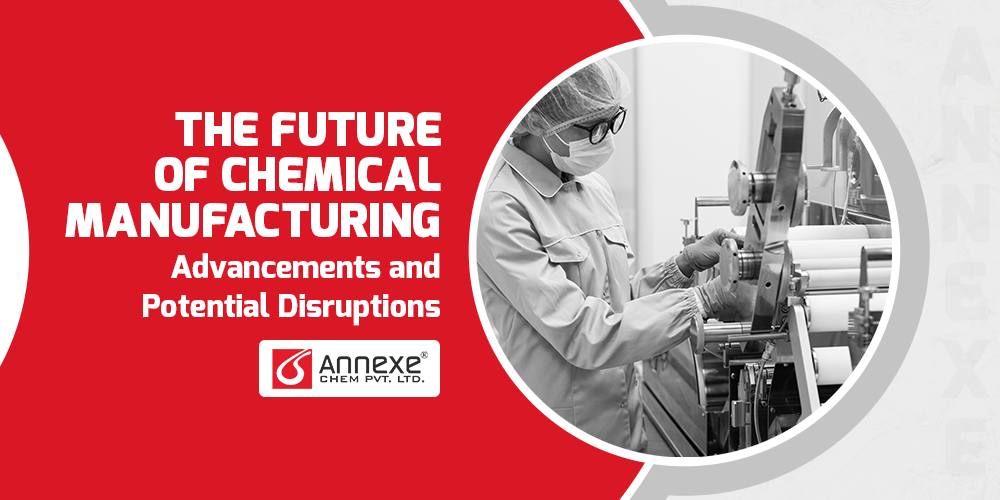 The production of diverse chemicals, materials, and goods that are necessary for a variety of industries is the focus of the chemical manufacturing business, which is important to the world economy. Through intricate procedures including synthesis, purification, and formulation, chemical substances made from raw ingredients are transformed into these substances.
Pharmaceutical, agricultural, automotive, electrical, construction, and consumer goods industries are just a few of the many sectors that chemical manufacturing supports. It produces chemicals that are utilized in a variety of items that are used daily, including pharmaceuticals, fertilizers, textiles, and cleaning products.
Large-scale production facilities, strict safety and quality standards, and the ongoing need for innovation and efficiency enhancements are characteristics of the sector. Chemical producers spend a lot of money on R&D to develop new products, improve production techniques, and guarantee regulatory compliance.
Chemical manufacturing is a highly competitive sector, with companies striving to meet evolving market demands, cost-effectiveness, and sustainability goals. The industry's future will be shaped by advancements in technology, increasing focus on sustainability, and disruptive factors influencing production methods and consumer preferences.
Advancements in Chemical Manufacturing
Artificial Intelligence and Machine Learning: In chemical manufacturing, AI and ML have wide-ranging applications. Furthermore, AI and ML find applications in predictive maintenance, where algorithms learn patterns of equipment failure and can detect anomalies, helping to prevent breakdowns and optimize maintenance schedules. The benefits of AI and ML in chemical manufacturing include improved data analysis capabilities, enhanced pattern recognition, and more efficient decision-making. By harnessing these technologies, chemical manufacturers can optimize their processes, reduce costs, and achieve higher productivity and quality standards.
Internet of Things (IoT): IoT devices, such as sensors and actuators, can be integrated into production facilities, enabling the collection of data from various sources. These devices can monitor critical parameters such as temperature, pressure, humidity, flow rates, and chemical concentrations. The data collected is then transmitted to a central system or cloud platform for analysis and decision-making. With remote control capabilities, operators can adjust parameters, troubleshoot issues, and optimize processes from anywhere, enhancing operational efficiency. Overall, IoT empowers chemical manufacturers with real-time insights, remote control capabilities, and predictive maintenance, enabling them to make data-driven decisions, optimize processes, and enhance operational efficiency.
Robotics and Automation: In chemical manufacturing, robots and automation systems can handle repetitive and hazardous tasks, such as material handling, mixing, and packaging. By automating these processes, manufacturers can reduce the risk of accidents, improve product quality, and increase productivity. The benefits of robotics and automation in chemical manufacturing are manifold. They include increased precision in operations, reduced human error, enhanced safety, improved process efficiency, and higher productivity levels. By adopting these technologies, chemical manufacturers can optimize their operations, achieve cost savings, and improve overall competitiveness.
Sustainable and Eco-Friendly Practices: The chemical manufacturing industry has been under increasing pressure to adopt sustainable practices and reduce its environmental footprint. AI-powered optimization algorithms help identify areas where energy and raw material consumption can be reduced, leading to lower carbon emissions and improved energy efficiency. IoT-enabled sensors provide real-time data on resource usage, enabling better monitoring and control of energy, water, and chemical consumption. This data-driven approach helps chemical manufacturers make informed decisions to implement sustainable practices throughout their operations.
Potential Disruptions in Chemical Manufacturing
Shift towards Renewable Resources: A sizable shift towards renewable resources is being driven by the worldwide movement towards sustainability and the reduction of carbon emissions in the chemical production industry. This involves the use of bio-based feedstocks as alternatives to fossil fuels and petrochemicals, such as biomass and agricultural waste. Reduced greenhouse gas emissions, a smaller environmental effect, and less reliance on finite resources are just a few benefits of using renewable resources.
Circular Economy and Recycling Initiatives: The concept of a circular economy, which promotes the reuse, recycling, and regeneration of materials, is gaining momentum in the chemical manufacturing industry. This disruptive approach aims to minimize waste generation and resource consumption by closing the material loop. It involves innovative recycling technologies, designing products for recyclability, and implementing efficient waste management systems. The adoption of circular economy principles necessitates a fundamental transformation of traditional linear manufacturing processes. 
Changing Consumer Demands and Preferences: Demands and preferences among consumers are changing as people's understanding of sustainability, health, and safety grows. Environmentally friendly, non-toxic, and ethically made goods are in high demand. Chemical producers are being forced by this shift in demand to reassess their product lines, reformulate products to adhere to more stringent laws, and create sustainable alternatives. Market disruptions and a loss of market share might result from a failure to adjust to shifting customer expectations.
Analysis of Potential Disruptions
Impact on Traditional Chemical Manufacturing Methods: The disruptive factors mentioned above can have a significant impact on traditional chemical manufacturing methods. The reliance on fossil fuels as feedstocks may decline as renewable resources gain prominence, requiring adjustments to production processes and infrastructure. The circular economy approach challenges the linear "take-make-dispose" model, necessitating the development of recycling capabilities and the implementation of closed-loop systems. Additionally, changing consumer demands require manufacturers to invest in research and development for greener, safer, and more sustainable products.
Challenges and Opportunities for Adaptation: Adapting to these potential disruptions poses both challenges and opportunities for chemical manufacturers. Companies must invest in research and development to explore and implement alternative feedstocks and sustainable manufacturing processes. They must also invest in technology and infrastructure to enable recycling and support the circular economy. Adapting to changing consumer demands requires innovation, collaboration, and a deep understanding of market trends. However, embracing these disruptions can create opportunities for growth, differentiation, and market leadership.
Case Studies of Companies Leading the Way: Several companies are already embracing disruptive factors in chemical manufacturing. They are actively incorporating renewable resources, implementing circular economy practices, and developing sustainable products. These companies serve as examples of successful adaptation and can provide valuable insights for the industry. Case studies of such companies can shed light on strategies, challenges faced, and the benefits reaped from embracing disruptive factors.
In summary, the potential disruptions in chemical manufacturing driven by the shift towards renewable resources, circular economy initiatives, and changing consumer demands require companies to adapt their traditional methods. This entails rethinking feedstocks, manufacturing processes, and product portfolios to align with sustainability goals. While these disruptions pose challenges, they also offer opportunities for innovation, market differentiation, and sustainable growth. Analyzing case studies of leading companies can provide valuable lessons for the industry as a whole.
Future Outlook of Chemical Manufacturing 
Integration of innovations and disruptions is key to the future of the chemical industry. To optimize operations, improve safety precautions, and implement sustainable practices, the sector must embrace emerging technologies like artificial intelligence, machine learning, IoT, robots, and automation. Chemical producers must simultaneously adjust to disruptive forces like the move towards renewable resources, circular economy programs, and shifting consumer needs. The industry can create new opportunities and promote transformation by incorporating these developments and disruptions.
The future of chemical manufacturing will be greatly influenced by cooperation and innovation. Industry businesses, academic institutions, and tech companies should work together to share best practices, resources, and information. This cooperative strategy can promote creativity, hasten the creation of long-lasting solutions, and tackle difficult problems. The sector will be able to get over obstacles, investigate new directions, and open up new prospects thanks to open innovation models, partnerships, and cross-industry collaborations.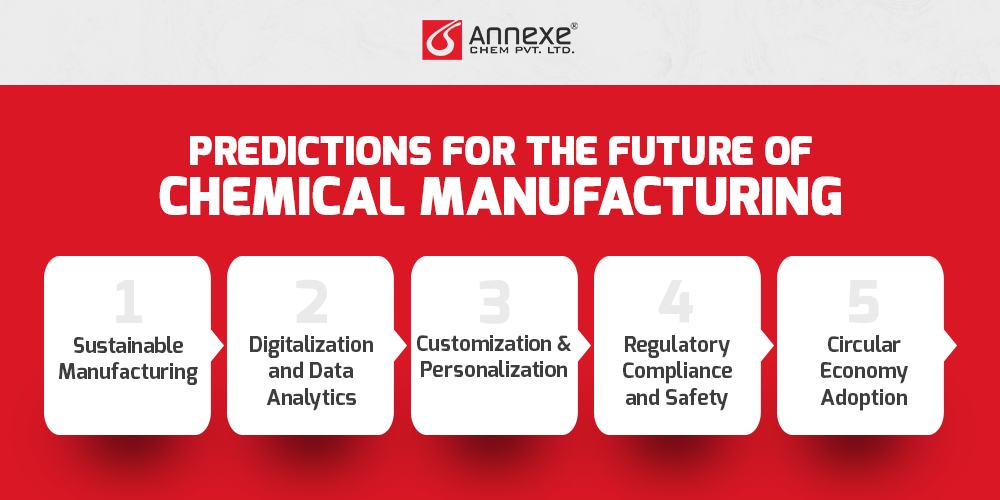 Predictions for the Future of Chemical Manufacturing
Sustainable Manufacturing: The future of chemical manufacturing will be centered around sustainability. Companies will focus on reducing carbon emissions, minimizing waste, and optimizing resource utilization. They will prioritize the development and adoption of sustainable feedstocks, processes, and products to meet the increasing demand for environmentally friendly alternatives.
Digitalization and Data Analytics: The industry will witness further digitalization and the extensive use of data analytics. Advanced technologies such as AI, ML, and IoT will continue to be leveraged to collect, analyze, and derive actionable insights from large volumes of data. This data-driven approach will enable proactive decision-making, predictive maintenance, and continuous process optimization.
Customization and Personalization: As consumer demands evolve, chemical manufacturers will need to offer more customized and personalized solutions. This could involve the development of tailored products, adaptable manufacturing processes, and flexible supply chains to meet individual customer needs and preferences.
Regulatory Compliance and Safety: The future of chemical manufacturing will see a heightened emphasis on regulatory compliance and safety. Stricter regulations, increased scrutiny, and the need for transparency will drive companies to invest in robust safety measures, product stewardship, and environmentally friendly practices.
Circular Economy Adoption: The adoption of circular economy principles will become increasingly prevalent. Chemical manufacturers will focus on designing products for recyclability, implementing closed-loop systems, and promoting the use of recycled materials. The aim will be to minimize waste generation, maximize resource efficiency, and create a circular value chain.
In conclusion, the combination of developments and disruptions, cooperation, and innovation will define the future of chemical manufacturing. The industry will be shaped by the adoption of the circular economy, digitalization, customization, compliance with regulations, and sustainable business practices. Chemical producers can prosper in a future that is more effective, sustainable, and customer-focused by embracing these trends and anticipatorily responding to shifting market dynamics.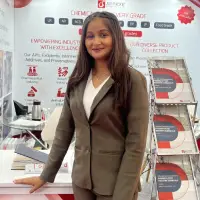 Akshita Patel
As an advocate for sustainability, Akshita is committed to driving positive change within the chemical industry. She actively seeks out environmentally friendly solutions and promotes the adoption of sustainable practices. Akshita believes that a balance between economic growth and ecological responsibility is crucial for the industry's long-term success. She is dedicated to finding innovative ways to minimize environmental impact while maximizing efficiency and profitability.
Related Blogs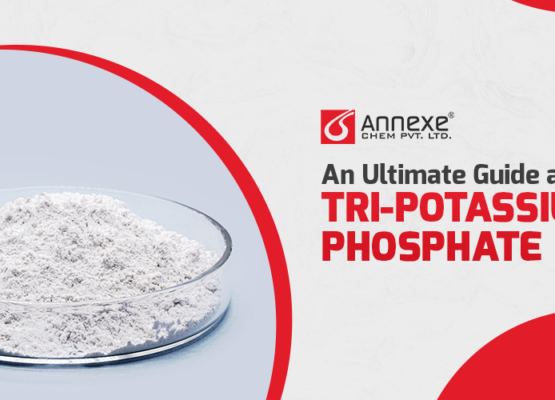 Tri Potassium Phosphate (TKP), also known as potassium phosphate tribasic, is a chemical compound with a.
READ MORE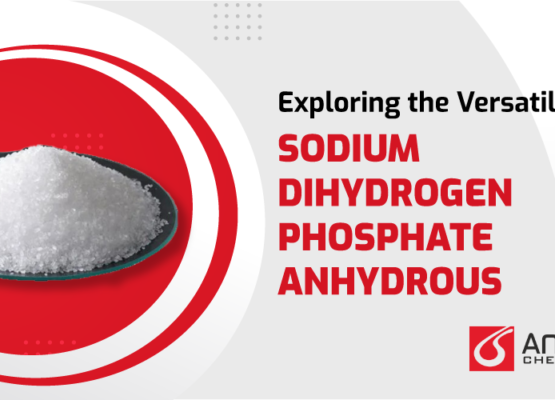 Sodium Dihydrogen Phosphate Anhydrous, also recognized as anhydrous monosodium phosphate or monosodium phosphate, is a significant.
READ MORE