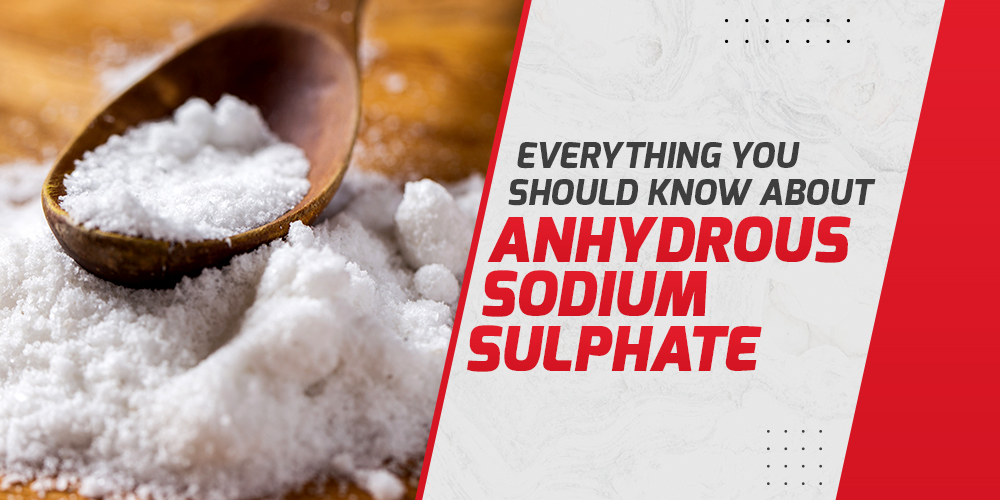 The sodium salt version of sulfuric acid is sodium sulphate anhydrous. In water, sodium ions and sulphate ions are produced via the dissociation of sodium sulphate anhydrous. The main cation in the extracellular fluid is sodium, which is used extensively in the treatment of fluid and electrolyte disorders. In isosmotic solutions, sodium sulphate anhydrous is used as an electrolyte replenisher to prevent natural electrolyte balance from being upset and to prevent the absorption or excretion of water and ions. In common terms, it is known as mineral thenardite.
Physical Properties of Anhydrous Sodium Sulphate
In water, sodium sulphate exhibits peculiar solubility properties between 0°C and 32.384°C, where it reaches a maximum solubility of 49.7 g/100 mL, and its solubility in water increases by a factor of more than ten. The slope of the solubility curve changes at this point, and the solubility practically becomes temperature independent. The melting of the hydrated salt and release of crystal water at this temperature of 32.384°C serve as a reliable temperature reference for thermometer calibration.
Manufacturing Methods of Anhydrous Sodium Sulphate
Because sodium sulphate anhydrous rapidly transforms into sodium sulphate hydrate when it comes into contact with water, it is frequently used as a dyeing agent in various chemical syntheses. It can be used to remove specific medications from your body and will remove a small amount of water from organic solutions. It is widely used in the paper and pulp, glass, soap and detergent, and textile industries. The following steps are involved in the production of anhydrous sodium sulphate by the direct reaction of sodium chloride and concentrated sulfuric acid:
Crushing and sieving of industry salt

The high-temperature reaction of salt with concentrated sulfuric acid in a reactor to produce sodium sulphate and HCl gas and

The cooling and crushing of the produced sodium sulphate
The technological procedure is quick and produces products with high purity levels of 99-99.3%. When manufacturing one ton of sodium sulphate, it may also make 1.55 tons of hydrochloric acid with a 31% concentration.
Uses of Anhydrous Sodium Sulphate
The majority of the world's production is used as a filler in powdered household laundry detergents. Its usage is decreasing as more domestic consumers turn to compact or liquid detergents without sodium sulphate.
In the US and Canada, particularly, the Kraft process for the production of wood pulp was another once significant usage for sodium sulphate. Burning the organic materials in the "black liquor" created by this process creates the heat required to promote sodium sulphate's conversion to sodium sulphide. However, improvements in the thermal efficiency of the Kraft recovery process in the early 1960s led to more effective sulphur recovery and significantly decreased the demand for sodium sulphate makeup. As a result, from 1,400,000 tonnes annually in 1970 to only about 150,000 tonnes in 2006, sodium sulphate utilization in the US and Canadian pulp sector decreased.
Sodium sulphate plays a significant role in the production of textiles, with Japan accounting for the majority of its uses. To help "level" or lower negative electrical charges on textile fibres so that dyes can penetrate uniformly, sodium sulphate is added to the solution to boost its ionic strength. The stainless steel vessels used for dyeing are not corroded by it, unlike the substitute sodium chloride. Around 100,000 tonnes were consumed in 2006 in Japan and the US for this purpose.
Anhydrous sodium sulphate is a common inert drying agent used in laboratories to get rid of any remaining water vapour in organic solutions. It is more effective yet takes longer to work than the same substance, magnesium sulphate. It can be used with a range of materials despite only being effective below about 30°C because it is chemically pretty inert.
First Aid Measures against Anhydrous Sodium Sulphate
Contact with Eyes

: Look for any contact lenses and take them out. If contact occurs, rinse your eyes thoroughly with water for at least 15 minutes. You could employ cold water. Get medical care.

Contact with Skin

: Use soap and water to wash. Apply an emollient to the skin that is inflamed. If inflammation occurs, seek medical assistance. You could employ cold water.

Inhalation

: Remove to fresh air if breathed. Provide artificial respiration if you aren't breathing. Provide oxygen if breathing is difficult. Get medical care.

Ingestion

: Unless instructed to do so by medical personnel, DO NOT cause vomiting. Do not administer anything CPR to someone unconscious. Adjust any restrictive clothes, such as a belt, tie, collar, or waistband. Seek immediate medical attention.
Because sodium sulphate anhydrous is drying, it should be kept tightly closed and in a dry environment when being stored. It needs to be kept in a dry, well-ventilated area that is hygroscopic. Because it is a non-combustible solid, you should store and maintain it carefully.
Are you looking for a high-quality Anhydrous Sodium Sulphate suitable for different industrial uses? Being involved in the chemical industry since 2001, we- Annexe Chem began trading laboratory, tiny, and semi-bulk chemicals. Along with manufacturing, we also deal in packing goods utilizing cutting-edge technologies to preserve their shape. Contact us today!!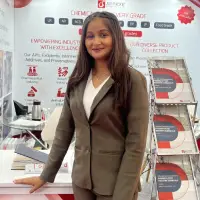 Akshita Patel
As an advocate for sustainability, Akshita is committed to driving positive change within the chemical industry. She actively seeks out environmentally friendly solutions and promotes the adoption of sustainable practices. Akshita believes that a balance between economic growth and ecological responsibility is crucial for the industry's long-term success. She is dedicated to finding innovative ways to minimize environmental impact while maximizing efficiency and profitability.