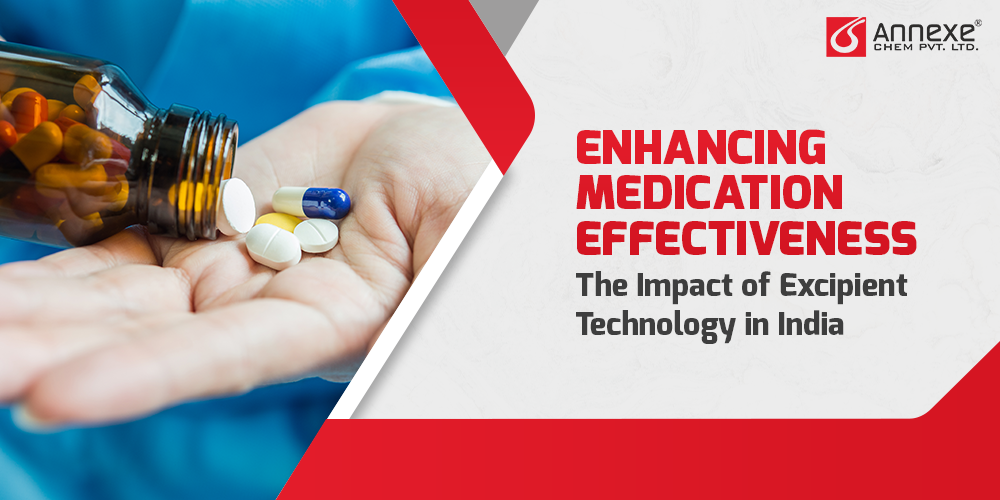 Pharmaceutical advancements have revolutionized how we treat diseases, but have you ever wondered what makes those tiny pills or capsules so effective? While active pharmaceutical ingredients (APIs) play a crucial role, another unsung hero is working behind the scenes – excipients. These overlooked components are vital in formulating drugs and ensuring their safe and effective delivery.
In recent years, excipient technology has witnessed remarkable advancements, particularly in India. As a global hub for pharmaceutical manufacturing, India has emerged as a leading player in excipient innovation, spearheading the development of cutting-edge solutions that enhance drug delivery systems.
So, whether you're a pharmaceutical enthusiast, a healthcare professional, or simply curious about the advancements shaping the world of medicine, this blog is your gateway to understanding the intricate world of pharma excipients and the game-changing innovations that are transforming drug delivery systems.
The Role of Pharma Excipients in Drug Delivery Systems
When you think about medications, what typically comes to mind are the APIs that provide the therapeutic effect. However, there is an often-underestimated group of components just as crucial in the world of pharmaceuticals – excipients. These unsung heroes play a vital role in drug formulation and delivery, contributing significantly to the effectiveness and safety of medications.
Definition and Functions of Excipients
Excipients can be defined as inert substances that are intentionally added to pharmaceutical formulations alongside active ingredients. Unlike APIs, excipients do not possess any direct therapeutic properties. Instead, they serve various essential functions, enabling successful manufacturing, stabilization, and drug administration.
Some of the primary functions of excipients include:
Filling and Bulking: Excipients help provide the necessary volume and form to medications, ensuring proper dosing and ease of administration.
Binding and Disintegration: They aid in the cohesion of tablets and their subsequent disintegration, allowing for effective drug release and absorption.
Lubrication: Excipients reduce friction between particles during manufacturing, preventing clumping and facilitating tablet compression.
Solubilization and Dissolution Enhancement: Certain excipients improve the solubility and dissolution rate of poorly soluble drugs, enhancing their bioavailability.
Stability and Protection: Excipients protect the active ingredients from degradation, oxidation, and moisture, extending their shelf life and preserving their efficacy.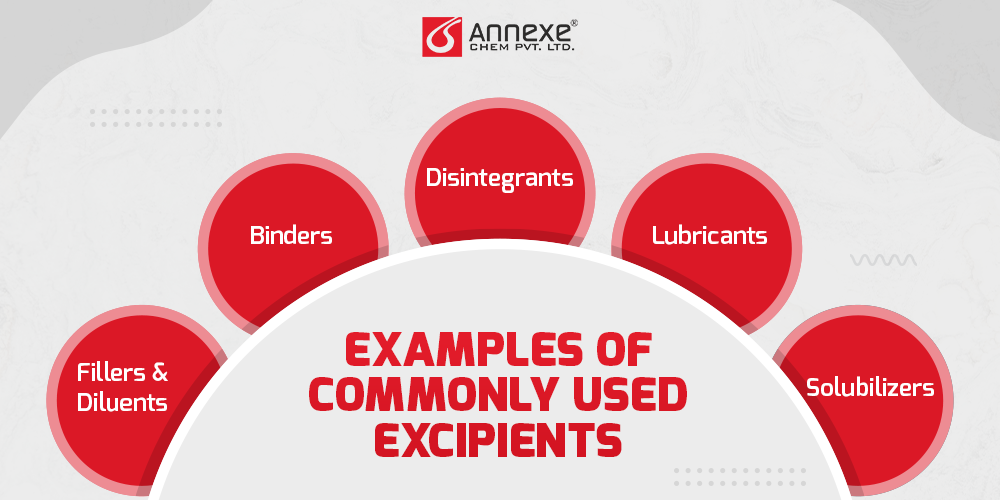 Examples of Commonly Used Excipients
The world of pharmaceutical excipients is diverse, with a wide range of substances employed to meet various formulation requirements. Some commonly used excipients include:
Fillers and Diluents: Examples include lactose, microcrystalline cellulose, and mannitol, which provide bulk and aid in tablet compression.
Binders: Substances like hydroxypropyl cellulose, methylcellulose, and polyvinylpyrrolidone promote tablet cohesion and stability.
Disintegrants: Excipients such as croscarmellose sodium and crospovidone facilitate tablet disintegration upon ingestion, ensuring drug release.
Lubricants: Materials like magnesium stearate and stearic acid reduce friction during tablet compression, improving manufacturing efficiency.
Solubilizers: Excipients like cyclodextrins and surfactants enhance the solubility and bioavailability of poorly soluble drugs.
These examples represent just a fraction of the vast array of excipients available, each with its unique role in drug formulation and delivery.
Challenges in Excipient Technology
While excipients play a crucial role in drug formulation and delivery, the field of excipient technology faces several challenges that necessitate continuous innovation and improvement. These challenges encompass the limitations of traditional excipients, regulatory considerations, and the need for novel solutions to address emerging safety concerns.
Limitations of Traditional Excipients
Compatibility: Traditional excipients may not always be compatible with all types of active pharmaceutical ingredients (APIs). Some APIs may interact unfavorably with certain excipients, leading to reduced drug stability, altered release profiles, or decreased efficacy.
Limited Functionality: Traditional excipients often have a singular or limited range of functions. As drug delivery systems become more sophisticated and targeted, there is a need for excipients that can perform multiple functions simultaneously or adapt to specific drug release mechanisms.
Bioavailability Challenges: Certain drugs with low solubility or permeability pose challenges in achieving adequate bioavailability. Traditional excipients may not always provide optimal solutions to enhance drug solubility, dissolution, or absorption.
Regulatory Considerations and Safety Concerns
Quality and Safety Standards: Excipients used in pharmaceutical products must adhere to strict quality and safety standards. Regulatory bodies require comprehensive characterization and documentation of excipients, including their sources, manufacturing processes, and potential impurities. Compliance with these standards adds complexity and cost to excipient development and manufacturing.
Allergenicity and Intolerances: Some traditional excipients have been associated with allergies or intolerances in individuals. For example, lactose is a commonly used excipient that can cause adverse reactions in lactose-intolerant patients. The presence of allergenic excipients poses challenges in formulating medications suitable for a broader patient population.
Need for Innovative Excipient Solutions
Novel Drug Delivery Systems: The emergence of advanced drug delivery systems, such as nanoparticles, liposomes, and implants, requires excipients specifically designed for these technologies. These innovative excipients must address the unique challenges posed by these systems, such as stability, biocompatibility, and controlled release.
Personalized Medicine: With the rise of personalized medicine, there is a growing need for excipients that can accommodate individualized dosing, formulation, and delivery requirements. Excipients that can be customized based on patient-specific factors, such as age, genetics, or comorbidities, are essential for achieving optimal therapeutic outcomes.
Biodegradability and Sustainability: The pharmaceutical industry is increasingly focusing on developing environmentally friendly and sustainable solutions. Biodegradable excipients, derived from renewable sources, or have a minimal ecological impact are gaining importance in drug formulation and delivery systems.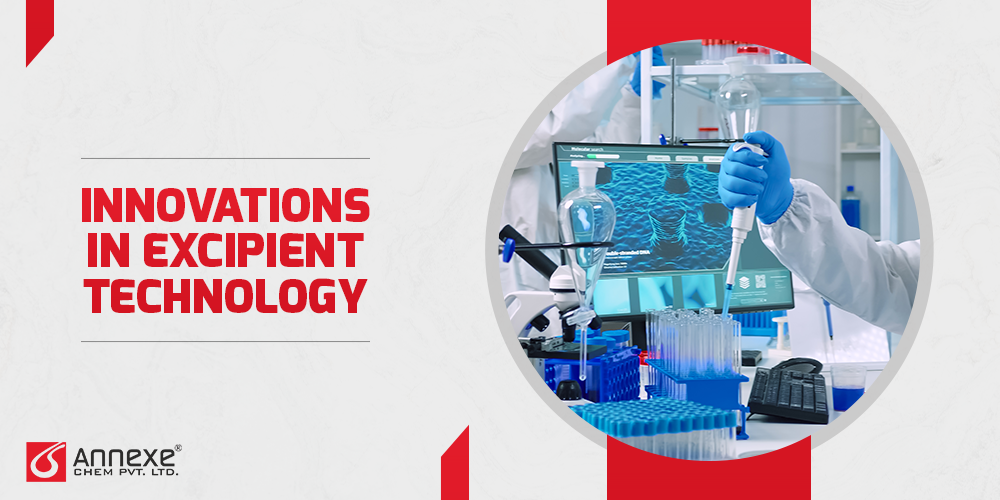 Innovations in Excipient Technology
Excipient technology has been experiencing significant advancements, driven by the need for improved drug delivery systems. These innovations are revolutionizing the field, addressing challenges in drug stability, bioavailability, site-specific drug release, and controlled and sustained drug delivery.
Advanced Excipient Formulations for Improved Drug Stability: Traditional excipients may fall short in ensuring long-term drug stability. However, advanced excipient formulations are being developed to enhance stability, extending the shelf life of medications. For example, the use of amorphous solid dispersions, where the drug is dispersed in a polymer matrix, can improve drug stability by preventing degradation or crystallization. This approach is particularly beneficial for drugs with low aqueous solubility.
Novel Excipient Delivery Systems for Enhanced Bioavailability: Improving drug bioavailability is a key goal in pharmaceutical formulations. Novel excipient delivery systems are being designed to enhance drug solubility, dissolution, and absorption. Lipid-based formulations, such as lipid nanoparticles and self-emulsifying drug delivery systems, offer improved drug solubility and bioavailability, especially for poorly soluble drugs. These systems enable efficient drug transport and uptake, leading to enhanced therapeutic efficacy.
Targeted Excipient Strategies for Site-Specific Drug Release: Achieving targeted drug delivery to specific sites in the body is crucial for optimizing treatment outcomes and minimizing side effects. Excipients are being engineered to enable site-specific drug release. For example, pH-responsive excipients can be used to formulate enteric-coated tablets that remain intact in the acidic stomach environment but dissolve in the alkaline conditions of the intestines. This allows drug release at the desired site of action and protects the drug from degradation in the stomach.
Excipient Innovations for Controlled and Sustained Drug Delivery: Some medications require controlled or sustained release over an extended period. Excipient innovations are enabling the development of formulations that provide controlled drug release profiles. One example is the use of hydrogels as excipients, which can absorb and retain large amounts of water, swelling and releasing drugs gradually. It allows for controlled release kinetics, reducing the frequency of dosing and improving patient compliance.
These innovations in excipient technology are transforming the landscape of drug delivery systems. By addressing the limitations of traditional excipients, they offer improved drug stability, enhanced bioavailability, targeted drug release, and controlled drug delivery. These advancements hold immense promise in optimizing therapeutic outcomes, reducing side effects, and enhancing patient convenience.
In conclusion, excipient innovations in drug delivery systems play a vital role in enhancing the efficacy, safety, and patient experience of pharmaceutical formulations. From improving drug stability to enabling targeted and sustained drug release, excipients are indispensable components in the development of effective medications.
The advancements in excipient technology are addressing the limitations of traditional excipients and opening new possibilities for drug formulation. As we've explored the innovations in excipient technology, it is necessary to highlight the contributions of leading pharma excipient manufacturers. We at, Annexe Chem are at the forefront of excipient advancements, offering an extensive range of excipients and APIs tailored to meet specific requirements. With our state-of-the-art facilities, advanced technology, and skilled professionals, we ensure our products surpass industry standards and fulfill clients' expectations.
At Annexe Chem, our commitment to quality and safety is evident through an FDA-GMP-certified manufacturing facility. This certification assures clients that their products are manufactured in accordance with the highest quality standards, ensuring the safety and efficacy of the medications. As the pharmaceutical industry continues to evolve, collaboration between manufacturers, suppliers, researchers, and regulatory authorities is essential to fuel further advancements and meet the ever-changing needs of patients worldwide.
So, let's embrace the power of excipient innovations and work together to shape the future of pharmaceutical formulations, bringing us closer to a world where effective and personalized medications are accessible to all.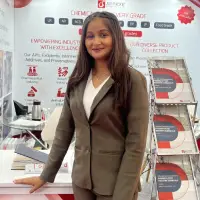 Akshita Patel
As an advocate for sustainability, Akshita is committed to driving positive change within the chemical industry. She actively seeks out environmentally friendly solutions and promotes the adoption of sustainable practices. Akshita believes that a balance between economic growth and ecological responsibility is crucial for the industry's long-term success. She is dedicated to finding innovative ways to minimize environmental impact while maximizing efficiency and profitability.